Tiffin was raised in Altoona, Iowa and earned his Bachelor's degree in Political Science and Environmental Studies from Iowa State University in 1982. Tiffin moved west and graduated from the University of Montana School of Law in Missoula in 1990.
After Law School Tiffin practiced law for two years with his Father, Robert D. Hall in Des Moines, Iowa in a firm started by his Grandfather in 1923.
Tiffin moved back to Montana and practiced with firms in Great Falls and Missoula before moving to Eureka to join his wife Sandi in February of 2007. Tiffin is active in the Eureka community and serves on the board of directors for Recycle Eureka and for North Lincoln County Can Do (a non-profit underage substance abuse prevention coalition).
Tiffin's Grandfather, James W. Hall, was admitted to the Iowa Bar in 1923. His Father, Robert D. Hall, was admitted to the Iowa Bar in 1965.
The picture in Tiffin's office is of his Grandfather and Father when his Dad graduated from Drake Law School. Tiffin's sister, Rebecca, is also an attorney in Phoenix, AZ.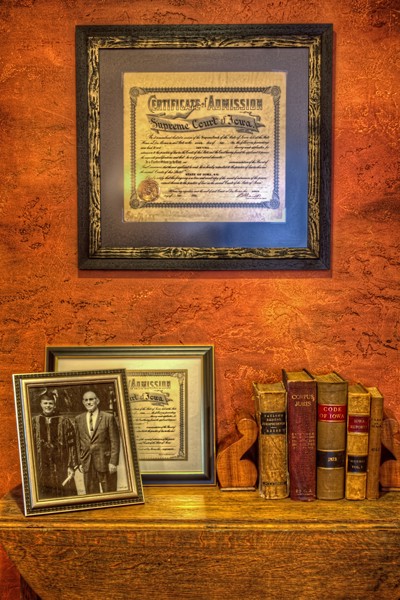 Summary of Professional Experience
Over 30 years in private law practice representing individual clients and diverse businesses in a wide range of legal matters including but not limited to general civil litigation, employment and labor law, real property transactions and related litigation, personal injury claims, landlord/tenant disputes, drafting contracts and sales agreements, commercial transactions and related litigation, environmental law, bankruptcy, business formation and business law.
Credentials
Licensed to practice law in State of Montana, October 1990; United States District Court, District of Montana, October 1995; United States Court of Appeals for the Ninth Circuit, May 2003.
Licensed to practice law in State of Iowa, June 1993; United States District Court, Southern District of Iowa, June 1993.
Education
Doctor of Jurisprudence / 1990
School of Law, University of Montana, Missoula, Montana
Clinical Training; University of Montana Legal Counsel
Bachelor of Arts Degree in Political Science & Environmental Studies / 1982
Iowa State University, Ames, Iowa
Inducted into Pi Sigma Alpha, National Honorary Society for Political Science
Cyprus Internship, Island of Cyprus / Summer 1980
Independent Study project researching environmental laws of Cyprus
Professional Experience, Accomplishments & Responsibilities
Private Law Practice / 2002 – Present
Law office of J. Tiffin Hall, Missoula, Montana; Eureka, Montana
General civil practice emphasizing employment and labor law, real estate transactions and litigation, estate planning and probate.
Associate Attorney / 1998 – 2002
Milodragovich, Dale, Steinbrenner & Binney, P.C., Missoula, Montana
General civil practice emphasizing employment and labor law, real estate transations and litigation, bankruptcy and insurance defense litigation.
Represent and advise employers and employees in all areas of labor and employment litigation including wage and hour claims, personnel grievances, unemployment claims, wrongful termination claims, discrimination claims, ERISA, ADA, ADEA, COBRA and FLSA issues.
Prepare and review policies and procedures and employment manuals for employers.
Advise clients on constitutional issues, public records laws, employment policies and procedures and substance abuse policies.
Interpret statues, court decisions, and rules and policies affecting clients and provide written and oral legal advice and recommendations.
Assess, prepare and present labor contract and wrongful discharge arbitrations.
Serve as General Counsel for Missoula Urban Transportation District. Evaluate and negotiate issues relating to business and transportation deals, vendor and government contracts and regulatory matters.
Associate Attorney / 1995 – 2002
Matteucci, Falcon, Squires & Lester, P.C., Great Falls, Montana
General civil practice emphasizing commercial transactions and related litigation, employment law, bankruptcy, real property law, and general business representation in state and federal courts and state and city administrative agencies.
Responsible for own litigation caseload in federal and state courts, including fact investigation, legal research, development of theory and strategy of case, writing all legal documents and briefs, discover, oral arguments, settlement conferences and hearings.
Represent small businesses in civil litigation and defense, employment and labor disputes, city regulatory matters, drafting contracts, collection on accounts and judgments, and formation of corporations and other business organizations.
Represent individuals in wide variety of civil matters including real property transactions, landlord/tenant disputes, personal injury claims, consumer rights, Medicaid/Medicare eligibility, bankruptcy, and estate planning.
Developed and presented lecture on recent federal regulations and statutes affecting real estate transactions at annual Montana real estate law CLE, February 1997.
Attorney / 1992 – 1995
Law offices of Robert D. Hall & J. Tiffin Hall, Ankeny, Iowa
Partner in general civil and trial practice founded by Grandfather. Work included, but was not limited to, real property law, family law, personal injury, litigation, estate planning, and probate.
Successfully litigated a two-week long fraud trial against a condominium developer and a condemnation appeal against the State of Iowa. Successfully defended a client in one of Iowa\'s largest Superfund cases.
Negotiated and drafted contracts, leases, and purchase and sales agreements for clients, including a multi-million dollar hotel, store and charter fishing business in Sitka, Alaska.
Reviewed abstracts, issued formal title opinions and drafted curative documents for real property transactions.
Associate Attorney / 1991 – 1992
Nading Law Firm, Ankeny, Iowa
General civil practice engaged primarily in personal injury litigation.
Prepared petitions, orders, motions and other court documents; interviewed clients and witnesses; drafted contracts and real estate documents; prepared all discovery material and requests; researched and wrote memoranda and briefs; negotiated personal injury claims and assisted in trial preparation.
Summer Law Clerk / 1988
Hall & Nading Law Offices, Ankeny, Iowa
Researched and prepared memoranda of law for personal injury litigation; drafted an appellate brief to Iowa Supreme Court; attended depositions, hearings and trials.
Publications & Speaking Engagements
Published articles on employment issues for the Western Montana Chapter of The Society for Human Resource Managers, including How to Handle an Employee's Complaint of Sexual Harassment, Electronic Monitoring of the Work Place, and Common Questions Regarding the Family Medical Leave Act.
Developed and presented a lecture on new Federal regulations affecting real estate transactions at annual Montana real estate CLE in February, 1997.
Additional Professional Experience
Customer Service Agent / 1988 – 1991
Delta Airlines, Missoula, Montana
Worked part-time to support legal education.
Intern-City Manager / 1988
City of Altoona, Iowa
Organized Deferred Compensation Plan for City employees; gathered data and prepared an economic development notebook for prospective businesses.
Training Instructor-Passenger Services / 1986 – 1987
America West Airlines, Tempe, Arizona
Classroom instructor for customer service areas of ticketing, baggage, and automated check-in; supervised students during on-the-job training; developed and updated course materials.
Customer Service Representative / 1985 – 1986
America West Airlines, Phoenix Airport, Arizona
English Teacher / 1983
Centro Columbo-Americano, Bogota, Colombia
Taught English as a second language.